Most people know the difference between lust and love so what are they? What does the Bible define as love and as lust?
A Definition of Lust
Lust is an emotion or feeling of intense desire in the body and it can take nearly any form such as the lust for knowledge, the lust for sex or the lust for power. It is an overwhelming self-absorbed desire or craving for an object, person, or experience that might be good but in most cases, is not. For example, a man or a woman can lust after their spouse and since they are legally married, there is no sin in this, however lusting after someone else's spouse or someone who's not married is sin, so clearly, lust and love aren't the same at all and in many ways, they are actually opposites of one another, for example we can lust after riches, for drugs, for alcohol, and for any number of things that are detrimental to our wellbeing.
A Definition of Love
The way the world defines love and the way that God defines love are not even close to the same thing. As far as the world sees, love is a strong and warm affection that someone has for another or others or for something. It could be like that of a parent for a child or a spouse for their mate or it could be a love for reading, eating, drugs, alcohol, or even shopping. Some of these are good and well, but others can lead to ruin. Love can certainly be a strong feeling of affection and concern toward another person, as that arising from a kinship or close friendship, which I have for my own spouse and children and grandchildren and even for my friends but from the biblical standpoint, love and lust are no co-equals since one can be good, while the other can lead to harm.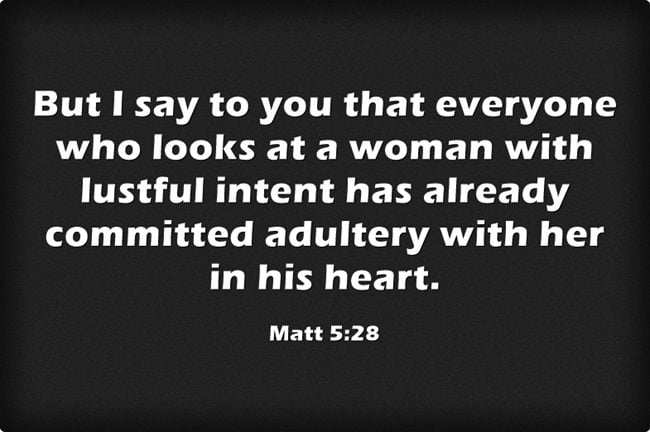 A Biblical Definition of Lust
I like what C.S. Lewis wrote many years ago. He wrote "If you look upon ham and eggs and lust, you have already committed breakfast in your heart." This is a very good, biblical definition of lust in the heart. If you covet something or someone, that is lusting in the heart. Exodus 20:17 lists the tenth commandment as "You shall not covet your neighbor's house. You shall not covet your neighbor's wife, or his male or female servant, his ox or donkey, or anything that belongs to your neighbor" so lust is not just about looking at someone of the opposite sex, or for some, looking at someone with lust of the same sex, it is coveting what you don't have. It is a passionate desire to have what someone else has.
What Lust Can Lead To
David let his lust carry him away as "One evening David got up from his bed and walked around on the roof of the palace. From the roof he saw a woman bathing. The woman was very beautiful" (2nd Sam 11:2) and so he lusted after her in his heart. This led to adultery and later, to the murder of Bathsheba's husband, Uriah. This is why James wrote that "after desire (or lust) has conceived, it gives birth to sin; and sin, when it is full-grown, gives birth to death" (1:15). The proverbs say "Do not lust in your heart after her beauty or let her captivate you with her eyes" (6:25). Jesus said that it was "out of the heart come evil thoughts–murder, adultery, sexual immorality, theft, false testimony, slander" (Matt 15:19). Solomon understood this connection, writing that as a man "thinks within himself, so he is" (23:7a). You can commit adultery without ever committing the physical act. Jesus said that "that everyone who looks at a woman with lustful intent has already committed adultery with her in his heart" (Matt 5:28) and of course the same thing applies to women.
A Biblical Definition of Love
There are so many places that define love in the Bible that it will be hard to select only a few. Paul writes that "Love is patient and kind; love does not envy or boast; it is not arrogant or rude. It does not insist on its own way; it is not irritable or resentful; it does not rejoice at wrongdoing, but rejoices with the truth. Love bears all things, believes all things, hopes all things, endures all things" (1st Cor 13:4-7). The love of God is not about feelings or words but "God shows his love for us in that while we were still sinners, Christ died for us" (Rom 5:8). Love is a verb; it is what you do more than what you say or what you think. We know that Jesus did not feel like taking on all of the sins of humanity, but His great love for us on the cross proved what the love of God is like. He died for us while we were still wicked sinners and His enemies (Rom 5:8, 10).
Conclusion
The differences between love and lust are that we don't covet what we don't have. We shouldn't covet (lust after) our neighbor's spouse or their goods (Ex 20:17). Love, on the other hand, "does no wrong to a neighbor; therefore love is the fulfilling of the law" (Rom 13:10) and this means "You shall love your neighbor as yourself" (Matt 19:19) but above all "You shall love the Lord your God with all your heart and with all your soul and with all your mind" (Matt 22:37). The difference for believers is that we are told "Love your enemies and pray for those who persecute you" (Matt 5:44). The greatest display of love was not what Jesus felt or what God feels but it was revealed at Calvary. Jesus said "Greater love has no one than this, that someone lay down his life for his friends" (John 15:13) and that's just what He did. Lust harms, love sacrifices.
—————-
**By Jack Wellman at what Christians wat to know / Photo by Mark Stebnicki at Pexels